Consumer Engagement
Relevant, timely, and personal insights empower consumers and help utilities build enduring relationships
Personalized Insights, Alerts, and Offers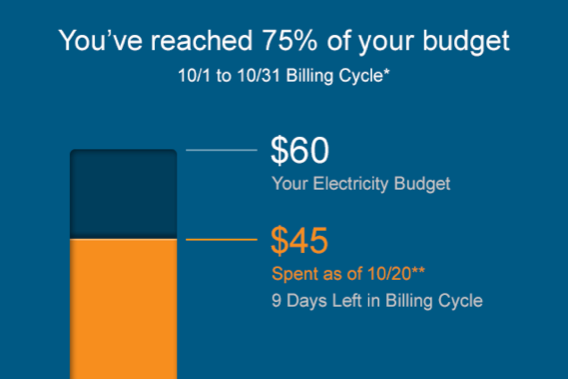 Bill Projection
Reduces bill shock and identifies the root cause of unexpectedly high usage
Budget Alerts
Provides consumers with peace of mind and time to act before it's too late
Comparisons
Efficiency benchmarking for the whole home and by appliance
High Usage Alerts
Identifies any significant outliers in home energy consumption
Recommendations
Available for all consumers, based on their appliance-level energy usage patterns
Customizable Offers
Consumers can enroll in programs or purchase items via a marketplace
Proactive Messaging
Raising customer satisfaction scores is difficult when many consumers' only interaction with their utility is to pay their bill each month. The Bidgely platform enables utilities to deliver a steady stream of engaging touchpoints that dramatically change the way consumers interact with their utility. The flexible communications engine allows the utility to determine the number and cadence of touchpoints.

Risk-Free Digitalization
Digital consumers provide a great deal of value for energy providers, but the process of digitalization is not easy. Bidgely helps unlock and capture the value of the digital consumer. The risk-free process eases the transition AND reduces the friction of digital engagement.

Omni-Channel Communication
To effectively cut through the noise and be heard, it is important to connect with each consumer via their preferred channel. Bidgely's omni-channel communications approach creates a consistent, seamless experience across all channels - web, mobile, SMS, email, and paper.

Give Your Current Assets a Dash of Wow
Leverage Bidgely's APIs to update your existing consumer communications. Embed itemization and insights into your existing web portal, email outreach, even paper bills.